Power Head
Remote controlled pan/tilt head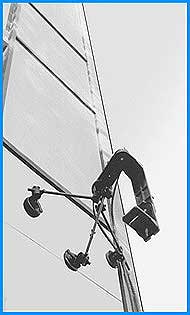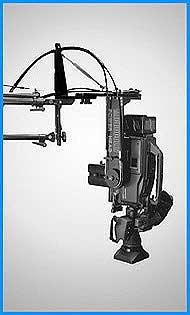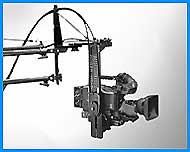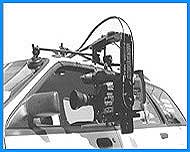 The MICRODOLLY POWER HEAD is truly unique. This Remote Camera Head can be controlled either manually by cable drive or motorized with a digital joystick accessory kit. The ability to very quickly switch between manual and motorized operating modes brings a whole new dimension to camera remote control.
In the manual mode, no electricity is required. The POWER HEAD utilizes super-smooth hi-tech cables to drive a fully adjustable clutch system with fluid head like precision. Camera Pan and tilt moves are easily controlled by rotating handlebars. Up to twelve pre-sets can be selected to precisely position camera pan or tilt to pre-determined positions. The POWER HEAD can also be mounted directly to a tripod as a zero-gravity manual pan/tilt head.
In motorized mode, the POWER HEAD pan and tilt movement runs effortlessly with a digital joystick. Whether fast or super slow, the superb electronics of this system assure exact control.
Set up time is usually less than five minutes in either manual or motorized mode. Built tough and weatherized, the MICRODOLLY POWER HEAD is purpose built to travel and comes in an attaché size hard case. It will carry camera loads up to forty-five pounds (20kg).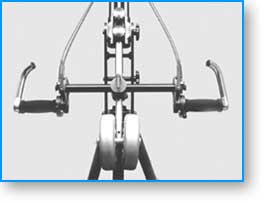 UNIVERSAL JIB POWER HEAD ADAPTER KIT
This new accessory kit allows the Power Head pan/tilt controls to also be mounted on the counterweight bar of most other jibs even those not manufactured by MICRODOLLY. Custom made cables can be supplied for jibs up to 18 feet or 6 meters in length.
Net Weight: 3 lbs. (1.36 kg)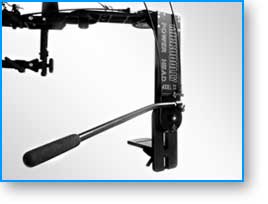 POWER HEAD PAN/TILT HANDLE
The Power Head Pan/Tilt Handle allows for precise handling of the camera pan and tilt movements similar to a standard tripod head. The Handle installs in seconds and the Power Head remote cables do not need to be removed. Made of sturdy structural grade aluminum, the Handle has a comfort grip to ensure smooth and steady camera movement.
Net Weight. 0.5 lbs. (0.22 kg)