Jibs
Jib Arm Cranes & Accessories
The unique MICRODOLLY Jib System is truly a product of the aerospace age. Designed for the crew that must travel light, the Basic Jib weighs just over 10 pounds (4.5 kg) and can easily carry camera gear loads up to 50 pounds (22.7 kg). It can be mounted on most professional tripods or hi-hats. When needed, the Jib can also be mounted upside down. For low maintenance, heavy-duty use, interior parts are permanently lubricated with baked-on Teflon.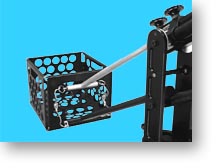 As with the MICRODOLLY Camera Dolly and Dolly Track System, the Basic Jib comes in a padded Soft Case only 34 inches (86 cm) long. Set up time is usually less than two minutes.
As well as its phenomenal lightweight construction, the MICRODOLLY Jib brings two unique innovations to crane technology.
The first is a folding Weight Cage accessory that attaches to the Jib in seconds. This allows anything to be used for counterweight. It even comes with a large fold-up water bottle. No longer is it necessary to carry heavy iron gym weights to every place you shoot.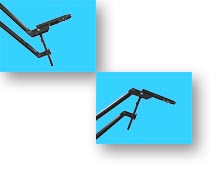 The second innovation is a camera plate that can automatically adjust camera tilt by degrees as the boom rises or falls to maintain the camera point of view. This automatic control of camera tilt and head room is unique to the MICRODOLLY Jib and allows many shots to be accomplished without using a pan/tilt head.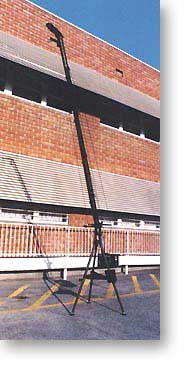 Whether in its Basic configuration with a 33 inch reach or with Boom Extensions added to give it a reach of 6, 9 or 12 feet, the MICRODOLLY Jib arm crane makes a truly versatile addition to your production gear.