On Location: Namibia
Customer Review

Dateline: Namibia
Niko Diehm, Director/Cameraman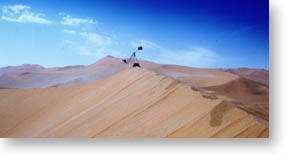 I'm a Director/Cameraman who works primarily in commercial production. Recently, I took the MICRODOLLY Jib and Camera Dolly Systems along on a shoot in Africa. I shot in both South Africa and in Namibia.
What a wonder the system is. I threw it in the back of a VW and took off through the deserts of Namibia. The desert seemed almost endless. I shot in an abandoned diamond mine that has been taken over by sand dunes as well as hiked up one of the highest sand dunes of Sousousvlei National Park.
The park encompasses hundreds of miles of bright red sand and barren white salt pans from long-dead lakes. I climbed up to the top with my camera, tripod, the MICRODOLLY Jib Arm and a few bottles of water to keep me going in the 100+ degree heat.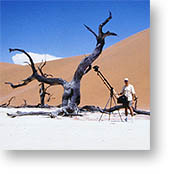 Setup was quick and easy and the best part was having all the counterweight I needed underfoot! The footage was spectacular. The Jib added the special movement that put it in a higher production category. A feat that would have been unimaginable without an ultra-light Jib arm.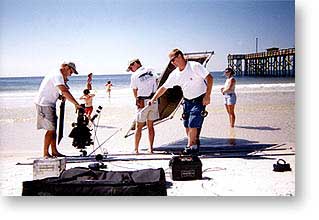 Shooting back in the States in Florida, we had numerous locations both on and off the beach. The MICRODOLLY Camera Dolly and Track System was indispensable in order to make the number of setups we needed. The weather was tricky and the two minutes it took to move the whole Dolly System to a different part of the beach was a real time and budget saver.
When push comes to shove, MICRODOLLY is worth its weight in gold!