On Location: Hungary
Customer Review

Dateline: Budapest
D.J. Roller, Cameraman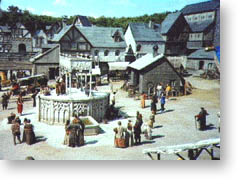 When told we were going to Budapest, Hungary to shoot behind-the-scenes footage for "The Hunchback of Notre Dame" a TNT Original Movie, I immediately thought of the MICRODOLLY I had seen at ShowBiz Expo in Los Angeles. As a cameraman for Turner Productions in Atlanta, we're constantly on the road and everything has to be lightweight and very sturdy.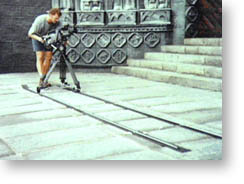 The exterior set for "Hunchback" was enormous and included a re-creation of a town square as well as the front of Notre Dame Cathedral. It was ten stories high! The square was part dirt and part paving stones, much like it must have been when the story took place.
Even in front of the church the surface was made to look like well worn stones. Even so, the Dolly worked just great. The foam pads and shims that are included in the kit made it possible to make very smooth moves. We also used the MICRODOLLY around the city of Budapest to get beauty shots to establish the location. All in all, the Dolly worked out really well. It was quick to set up, lightweight and easy to carry around. You can just keep it with you all the time because it's so light, and use it when you need it.
D.J. Roller can be contacted at:
Turner Productions
Atlanta, Georgia, USA