Film & Video
Magazine Article Review

Low-cost camera stabilization systems can add professional movement
to your shots, but not break your budget
By Erik Holsinger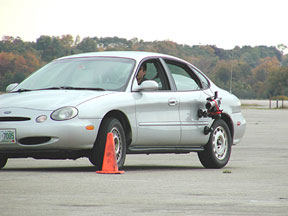 MICRODOLLY Hollywood sells a suction mount that will let you attach a light or camera to just about any surface on a car.
You see them on nearly every feature production the hordes of crew surrounding a camera, which is mounted on a massive wheeled device that looks like the monstrous love child of a freight train and a tripod. Dollies and cranes have long been the mark of a high end production, adding motion and sophistication within a scene. Yet in these days of more for less budgets, savvy producers are turning to new, less expensive alternatives to add motion to their projects.
HELLO MICRODOLLY!
MICRODOLLY HOLLYWOOD is yet another study in applying production expertise to common grip problems. Jerry Johnson, CEO and President of MICRODOLLY HOLLYWOOD, had worked as a producer and director for decades in Hollywood. Johnson started during the heady live television days of the 1950s and continued to produce film and broadcast television for more than 30 years. For Johnson, the idea for the MICRODOLLY was a useful solution to an all too common production situation.
"Times are changing, and even high-def cameras are lighter than ever," notes Johnson. "Yet, with the exception of some lighting gear, the majority of camera support gear is still very heavy." Johnson's solution was a camera Dolly System that is both fast and light. The original MICRODOLLY is about the same weight and size (when packed up) as a standard professional tripod. According to Johnson, it's unique design makes it possible to set up incredibly fast. "Once you've had some practice, you can lay out 13 feet of track, assemble the Dolly, and be ready to attach it to the tripod in less than 60 seconds," notes Johnson.
ECS Video Systems, a Boston based equipment rental house, steadily rents the MICRODOLLY Camera Dolly, Jib, and Suction Mount Kit to its broadcast and corporate clients. For ECS owner Eric Silverstein, MICRODOLLY is a great solution when you have to shoot quickly and travel light.
"The biggest (advantage) with the MICRODOLLY is portability and setup time." notes Silverstein. "The other reality is that if you are on a low budget, you don't need a grip to work the Dolly. The cameraman handles it himself." The low cost of the MICRODOLLY gear translates into low rental costs for ECS clients.
Silverstein also praises the MICRODOLLY Suction Mount Kit, which attaches to any smooth surface, including cars, using three industrial grade suction cups. "We've used (the Suction Mount) while videotaping a defensive driving course, where we were going 55 to 60 miles per hour and doing hard cornering. We used primarily miniDV but also some Betacam gear with it, and the results were terrific."