On Location: Iowa
Customer Review
Dateline: Iowa City, Iowa, USA
Ken Duncan, Owner, Ad-Market Productions
After dozens of T.V. commercials and corporate productions, our MICRODOLLY has paid for itself many times over. When I saw the MICRODOLLY at NAB, my biggest question was, "Can it hold our 115-pound Porta-Jib and camera?" The answer is a resounding YES!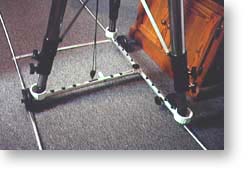 With an inexpensive modification to help secure the oversized Porta-Jib's heavy-duty tripod feet, our MICRODOLLY performs flawlesly. Not only can we shoot silky smooth scenes on 26 feet of Track, but the Jib adds six feet of craning motion, even in the tightest locations. One of my favorite uses for the MICRODOLLY/Jib combination is filming tabletop food and product shots for commercials.
I use our Steadicam for many moving shots. But when a slower, more controlled move is called for, MICRODOLLY offers a terrific alternative to Steadicam, at a fraction of the cost. It sets up quickly and operates in places a larger dolly can't fit.
MICRODOLLY has become a valuable and creative addition to our production process.
Ken Duncan can be contacted at:
Ad-Market Productions, Inc.
Iowa City, Iowa, USA