Dateline: Hollywood, California, USA
Mike Cargile, Director
While planning shots for the comedy short film "A Lesson," I soon realized that my vision was rapidly surpassing my meager budget. Then, I remembered the MICRODOLLY grip equipment I had seen at Showbiz Expo. I called MICRODOLLY, and we discussed how I could utilize their Jib and Dolly Systems to capture the shots that I wanted.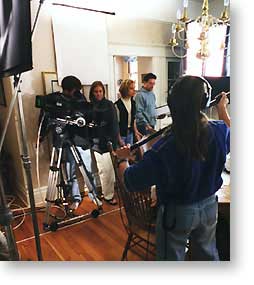 My D.P., Larry Sher, and I visited the MICRODOLLY offices in Hollywood for a personal demo. We were planning to shoot with the new Sony Hi-Definition 16x9 cameras, fully "tricked-out" with the studio matte box and focus rails, and we wanted to be certain that the ultra-lightweight MICRODOLLY Dolly and Jib Systems would be ok to use with the kind of shots we wanted.
On the set, the gear worked beautifully and was utilized in a wide variety of locations and setups. We combined the Jib with a traditional dolly and executed a beautiful crane shot that ordinarily would have been quite expensive. We also used the Jib with traditional legs and acquired a number of wonderful POV shots.
Once we moved to a small home interior, the Dolly System proved to be a real lifesaver, both in time and ease of use. MICRODOLLY didn't require the enormous amounts of effort and space needed to lay traditional dolly track; we simply "plopped" down the Track and moved with every bit of the precision and stability of a larger setup. Our A.C., initially chuckled when she saw the small scale of the equipment, even referring to it as a "trainer dolly." However, within a couple hours of use, her tone changed remarkably and was nothing short of enthusiastic.
With the MICRODOLLY gear, I was able to pull off approximately 35 setups a day, compared with the 25 or so I typically get in a normal working environment. I would highly recommend the MICRODOLLY Dolly and Jib Systems to any filmmaker at any point in their career.
Mike Cargile can be contacted at:
Big Event Pictures
Studio City, California, USA